We've just launched some new features. The biggest change for those of you already using Sitemaps: if you've
verified
your site, you'll see substantially more stats and error details.
The biggest change for new users: you can now
add a site
to your account even before create a Sitemap for it. Once you've added and verified your site, you can see all these new stats and errors.
New stats: how the Googlebot views your site
The
new stats
we're showing you are all about letting you know how we see your site.
With
query stats
, we show you the top Google search queries that return pages to your site as well as the top queries that caused users to click on your site in the search results.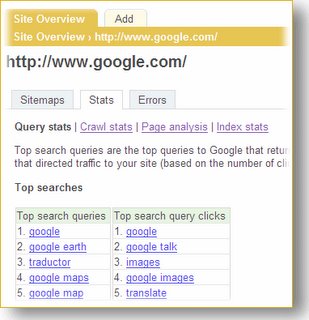 With
crawl stats
, you can see how we view crawled pages. You can see a distribution of the pages successfully crawled and the pages with errors as well as a distribution of PageRank for the pages in your site.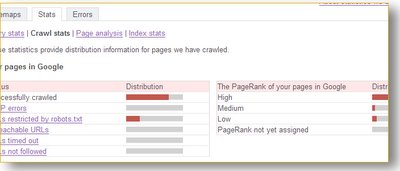 Page analysis
shows you what we detect about the content and encoding of your pages.
Index stats
provide an easy way for you to use our advanced search operators to return results about how we see the indexed pages of your site.
Mobile stats
You can now verify your mobile sites and see stats for them.
More detailed errors
Now you'll have more details about problems we had crawling your site. We report on 40 different types of errors in 5 categories.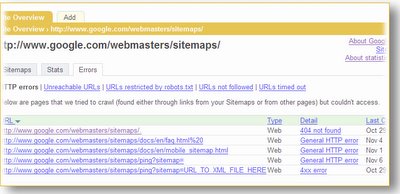 Adding a site
Even before you have a Sitemap for your site, you can still take advantage of all the statistics and error information we have available. Simply create a
Sitemaps account
and add a site to it. Once you verify site ownership, we provide the full range of statistics and error details. Of course, we encourage you to add a Sitemap so we can learn more about your site.